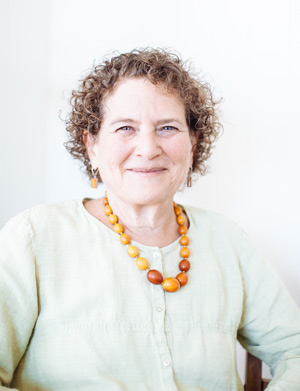 Dr. Kate Levinson is a licensed Marriage and Family Therapist (#MFC 15955) and holds a PhD in Clinical Psychology. She has spent more than 20 years studying the interface of money and psychology. Kate works with clients, couples and groups  with a wide range of life and financial issues, in her private practice in San Rafael and Point Reyes Station, CA.
Kate is the author of Emotional Currency: A Woman's Guide to Building a Healthy Relationship with Money, an insightful and empowering guide that offers a profound new approach to dealing with money. Kate leads Emotional Currency workshops throughout the country, and Women, Money, Spirit conferences in the San Francisco Bay Area. Kate blogs on Psychology Today.
The former co-owner of Point Reyes Books for 14 years, and co-founder of the nonprofit Black Mountain Circle, Kate is on the board of West Marin Community Services and the advisory board of the Mesa Refuge.
A former member of the teaching and supervisory faculty at The Psychotherapy Institute and JFK University's Graduate School of Clinical Psychology, Kate's doctoral dissertation was on "Work Attitudes of Women with Inherited Wealth".
Contact Kate via email or by phone (415) 717.7576.
Workshops
Spend a day doing the unthinkable—thinking and talking about money in your life. Discover what you feel about money, how you came to feel that way and why you handle money matters in the way you do. Through structured discussions and exercises, explore how money is woven into your thoughts and feelings about yourself and your relationship with others.
Offered in a small group setting, workshops are surprisingly intimate, and are typically for women only. Participants have a variety of financial circumstances.
Online Course
Giver, Receiver & Gift: The Spiritual Practice of Money with Kate Levinson and SF Zen Center Abbess Linda Ruth Cutts
Talks
Dr. Kate Levinson gives keynotes and frequently presents for organizations and groups. Topics may include aligning values and finances; emotional reactions to money; or family history and money. 
Past presentations:
San Francisco Village
Morgan Stanley
Artisan Business Network, Haiti
Committee on the Shelterless 
Professional BusinessWomen of California
YWCA of Kauai
San Francisco Jewish Community Center 
Friends of CG Jung Institute
San Francisco Zen Center
YWCA's Young Women & Money
Women's Global Leadership Initiative
Private Consults
Dr. Kate Levinson specializes in helping individuals, couples and groups deal with money from a psychological perspective. Private consultations are beneficial for people who want to understand the way they handle money as well as those in the midst of life transitions, difficult relationships involving money, and significant financial decisions. 
Kate sees clients in San Rafael and Point Reyes Station, CA, and can meet via Skype.